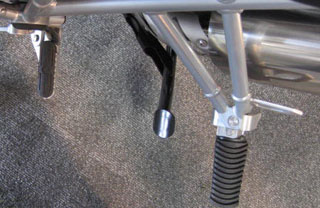 The three pictures above show the passenger lowering kit mounted on an R1200GS with low suspension. The center stand actuating arm is above but inboard of the peg. The left foot will have to be placed slightly toes out to avoid the plate on the end of the arm.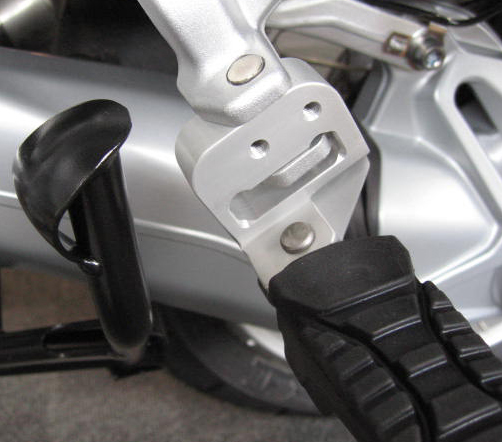 Distance from frame to center stand arm must be no less than 0.6"
P16 installed on R1200GSW

P16 also fits K1600GT/GTL

P16 - R1100/1150/1200GS/
Passenger Foot peg Lowering Kit -
(2005-2013) $189.95 per pair
P16N - R1200GSW Passenger Foot peg Lowering Kit -
(2014 & newer) $189.95 per pair
P17- K1600GT/GTL -R11/1150RT-R1200RT-R11/1150GS-R1200GS/W
Passenger Foot peg Raising Kit - $189.95


P16 passenger foot peg lowering kit fits
R1100GS , R1150GS, R1150GS Adventure without factory luggage,
R1200GS & R12GS ADV 2005 - 2013.
This kit does not fit R1150GS Adventure with factory luggage which uses a different foot peg.