Pegs move 40mm (1.57") down and back at 15 degrees. This equals the mounting hole spacing and angle of the rear master cylinder.
Net down is 1.516", net back .406"
If you have a Boxer Cup Replica, see the note below.
DL4-R1100S Foot peg Lowering Kit- $209.95

R1100S Handlebar riser Kit
Please note:
The handlebar kit only works on bikes that come from the factory with the clip-on handlebars mounted underneath the triple clamp.
If your R1100S has its bars mounted above the triple clamp, our kit will not help.
R1-R1100S Handlebar Kit- $109.95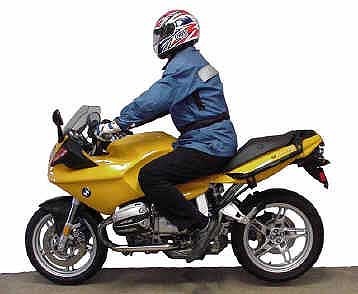 This photo shows an R1100S with the foot peg lowering kit and the handlebar riser kit installed. The rider is 6' 4" tall.
Advisory Nov 2012:
In 2001 BMW built a limited edition R1100SLA.
On this bike, there is a different (short) arm on the input shaft of the transmission. This short throw arm must be replaced with a standard length arm for the footpeg lowering kit to work properly. Otherwise the shifter linkage will interfere with the frame.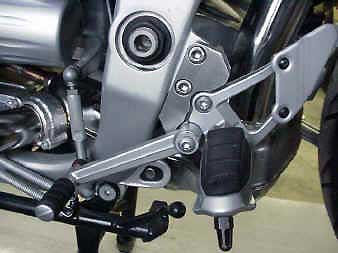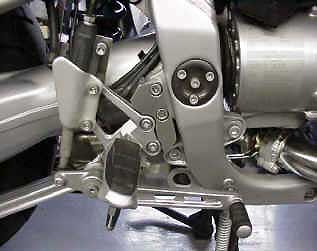 Left side:
Note shift linkage extender.
Shift lever relocates with the footpeg.
All mounting hardware is included.
If you have the Boxer Cup Replica, the
lowered shifter will interfere with the belly pan.
Option#1: Trim the belly pan.
Option#2: Remove the belly pan
and avoid stone chips.
Option#3: Live with the high pegs.
Right side:
Note master cylinder linkage extender.
The master cylinder does not move, the brake fluid circuit is not disturbed.