BMW R850R , R1100R , R1100RS
now use the driver's foot peg lowering kit
from the R1200RT
Handlebar riser (Part # R3 ) also fits the R1100R/R850R
Position change .894" up , 0.447" back, pictured below.

Order below
Home page
Go to BMW parts page
Order below
---
R1200RT pictured

Position change 1.45" down, 0.38" forward.




R1200RT pictured


R850R / R1100R / RS extended shifter
This shifter is specific to R850R , R1100R & RS,
in brushed stainless steel.
No longer available.

Handlebar Ups for the R1100R/R850R (Part # R3)
These are slightly different than the R1200RT risers.
There is a special clearance cut for the fork tube.


Position change .894" up , 0.447" back,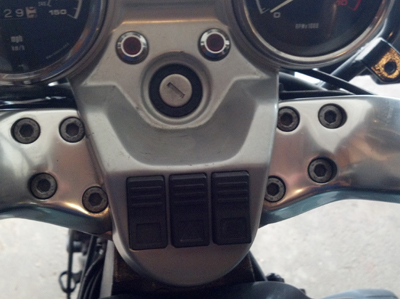 This R1100R has the optional center console.
In this case the R3 will not fit on this bike.
---
| | |
| --- | --- |
| R3-R1100R/R1100RT/R1150RT Handlebar UP Kit - $109.95 | |
| | |
| --- | --- |
| P3N R1200RT/R1150RT/R1100RT/R850R/R1100R/R1100RS Passenger Foot peg lowering Kit - $189.95 | |
P17- K1600GT/GTL -R11/1150RT-R1200RT-R11/1150GS-R1200GS
Passenger Foot peg raising Kit - $189.95



Home page
Go to BMW parts page